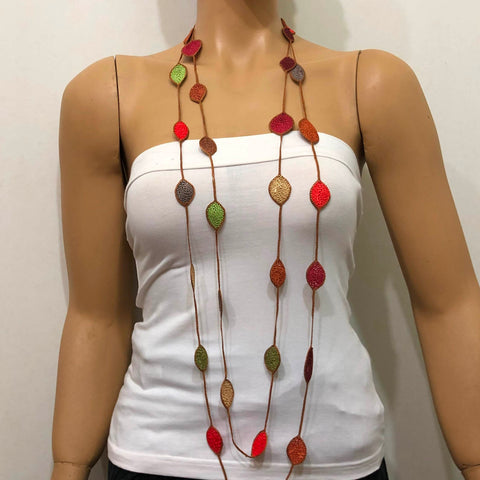 180013 Brown Multicolor Leaf Necklace - Oya Drop Necklaces - Oval Leaf Necklace
Weight : 0.03 kg , 0.07 lbs
SKU : 180013
---
Share this Product
---
180013 Brown Multicolor Leaf Necklace - Oya Drop Necklaces - Oval Leaf Necklace
This necklace is completely hand crocheted.

The motifs are called as Oya, which is very
old and well known Turkish art. There is no metal so you can wear it comfortably even if you are allergic to metal. The necklace is 100", 254cm (+-%10) closed chain loop so there is no closure , just pull it over your head. It has 29-31 motifs, widest part is 1",2.54 cm
You can wear it double layered or triple layered.
This is a very unique art and exceptionally beautiful jewelry.
It takes 2-3 days to make one and each one is different.
*** EXPRESS Shipping Upgrade for 4+ pieces, USA ONLY ****
RETAIL Customers; Buy at least 4 pieces, I will send your order by express delivery service instead of airmail post and it arrives to US in 2-5 working days without paying extra shipping charge
Registered Post  with TRACK Number - Anywhere in the World
(Estimated delivery time 1-3 weeks to USA, Europe,Japan,South Korea,Taiwan,Indonesia and Australia, 2-4 weeks for the rest)
                                        0-0.250 kg      6 usd
                                        0.250-0.5 kg 12 usd
                                        0,5 -1 kg       18 usd    
                                        1-2 kg           30 usd
                                         2-2.5 kg       35 usd
**** USA ONLY EXPRESS SHIPPING  (Estimated delivery time 2-5 DAYS)
                                        0 - 0.5 kg  25 usd, 
                                        0.5 - 1 kg  30 usd, 
                                        1-1.5 kg    40 usd
                                        1.5-2 kg    45 usd
                                        2-2.5 kg    50 usd
---
More from this collection