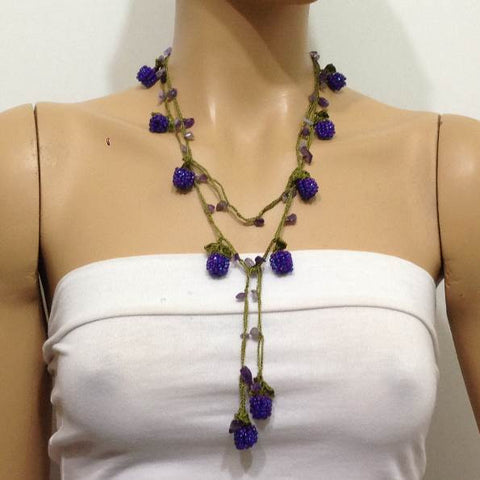 Purple Berry crocheted lariat with Amethyst stones
Weight : 0.035 kg , 0.08 lbs
SKU : BS-010
---
Share this Product
---
Purple Berry crocheted lariat with Amethyst stones
This necklace is completely hand crocheted. The berry motifs are called as BEAD Oya, which is very old and well known Turkish art. There are semi-precious Amethyst stones between the berries but still very light. You can wear it day or not night on almost every outfit. There is no metal so you can wear it comfortably even if you are allergic to metal. The necklace is 53", 135cm (+-%10) long . There is no closure, just wrap it around your neck . It will look exactly like the picture. This is a very unique art and exceptionally beautiful jewelry.
You can also use it as a trimming lace around scarves, clothes, dresses or wear it as a belt, headband or simply hang over the wall to enjoy the beauty.
It takes 1-2 days to make one and each one is different.
*** EXPRESS Shipping Upgrade for 4+ pieces, USA ONLY ****
RETAIL Customers; Buy at least 4 pieces, I will send your order by express delivery service instead of airmail post and it arrives to US in 2-5 working days without paying extra shipping charge
Registered Post  with TRACK Number - Anywhere in the World
(Estimated delivery time 1-3 weeks to USA, Europe,Japan,South Korea,Taiwan,Indonesia and Australia, 2-4 weeks for the rest)
                                        0-0.250 kg      6 usd
                                        0.250-0.5 kg 12 usd
                                        0,5 -1 kg       18 usd    
                                        1-2 kg           30 usd
                                         2-2.5 kg       35 usd
**** USA ONLY EXPRESS SHIPPING  (Estimated delivery time 2-5 DAYS)
                                        0 - 0.5 kg  25 usd, 
                                        0.5 - 1 kg  30 usd, 
                                        1-1.5 kg    40 usd
                                        1.5-2 kg    45 usd
                                        2-2.5 kg    50 usd
---
More from this collection